National Parliamentary Prayer Breakfast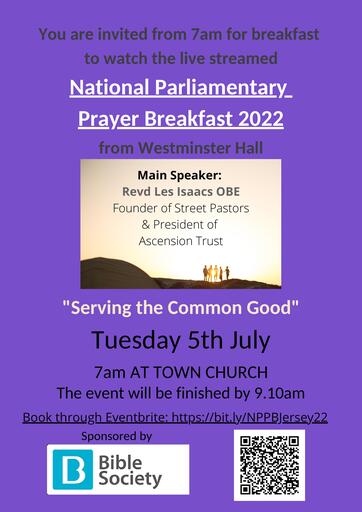 Tue 5 July, 2022
7–9am
Town Church

About
Dear Freedom Church Family,
It is with joy that I invite you to book your place for this year's live-streamed National Parliamentary Prayer Breakfast on July 5th 07.00am - 09.10am at Town Church. 
As this is the day of the States Assembly Vote for the Chief Minister, we feel this will be a particularly poignant opportunity to gather from across the island and explore the theme "Serving the Common Good" from political and faith perspectives. Rev Les Isaacs (Founder of Street Pastors and President of Ascension Trust) will give the keynote address.
Every year, over 700 MPs, Peers and Church Leaders gather in the Houses of Parliament to share breakfast, pray and encourage conversation about the relevance of the Christian faith to our public life.
Gathering in Jersey to watch the live-stream from Westminster Hall seems so timely, as we pray for those elected to the States in the June elections.
Please register your free place and any special dietary requirements via Eventbrite, following the link below or through the attachment.
Location
Town Church